What is it?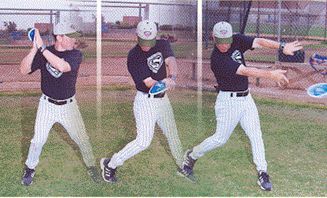 We designed the hitting disk for the purpose of trying to perfect your swing.

Trying to put good swings & approaches on the ball each and every time we
swing.

A palm up, palm down drill. To work on throwing your hands toward the pitcher and understanding the angels of your swing. Once the hitting disk leaves your hands if will give you an idea if you rolled your hands to early or are approaching the ball upward. Rolling your hands over two early will show a ground ball and the disk will not fly. Approaching the ball on an upward swing will have the disk fly up.

Ideally having the disk leave your hands and take off like a line drive. The more consisted your swing plane and hands the more consistent your hitting will be. Repetition of hands, great for a station in practice, safe, cheap, indoor use, any age & ability. Bottom line a effective hitting tool for $10- How many hitting aids can you get for $10? None- Hopefully this helps in the understanding of my product.

Home - What is it? - How to use it! - Benefits - Testimonials - Pictures - Links - About Us - Contact Us - Order